ADRIENNE DAUGHERTY, Cincinnati's Real Estate Consultant
Park Realtors, LLC 11427 Reed Hartman Hwy #405,  Cincinnati, OH 45241
Star of "Tough Market!"
Radio Talk Show Host "Real Estate Radio Hour-LIVE!" on WKRC  iHeartMedia Sundays at 4 pm Eastern Time (55KRC THE Talk Station!)
____________________________________________________________________________________________________________________________
Remodeling the bathroom is one of the best investments you can make as a homeowner — whether you're planning to live in your home for ten years or sell it within the next five. In fact, improving the atmosphere and functionality of the bathroom offers a huge benefit, especially if you're starting with a cramped or outdated space. The biggest question, of course, is: How much budget do you have for your remodel? Not everyone can spend tens of thousands of dollars on a bathroom remodel.
So here are some projects that will improve your bathroom, whether you have a budget of $1,000 or $10,000:
$1,000:
A budget that caps at $1,000 doesn't give you a lot of room to hire professionals. You're going to have to do most of the work yourself — except when it comes to plumbing and electrical work. That's best left to the professionals, and letting them handle it will save you money and hassle in the long run anyhow. Focus on the smaller DIY improvements that will revitalize and renew the bathroom's appearance. Some projects to consider are:
Repainting the walls: If your bathroom walls are looking particularly drab, then adding a fresh coat of paint could do a lot for the room. Choose a shade that brings it into the 21st century and creates a welcoming, relaxing atmosphere. Make sure it matches your linens so you don't have to replace those as well.
New tiling: Think about the tile in your bathroom, maybe the wall behind your bathtub or on the floor. If it's cracked or outdated, now might be a good time to replace it. Vinyl and ceramic tile is quite affordable — costing anywhere between $2 and $5 per square foot, depending on the design. Generally, you'll pay around $400 for 200 square feet of tile. Plus, you'll have to lay it yourself. In comparison, professional tile installation averages around $900 – $2100– way outside your budget.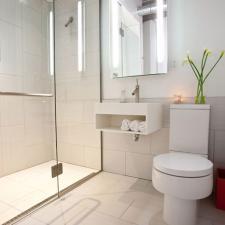 Additional storage
: Depending on the size of your bathroom, you might want to look at how you can optimize storage. Think about a new medicine cabinet, baskets or a standing shelf if your bathroom has the room. You could spend anywhere between $100 and $200 on storage depending on which kind you decide to install.
Regrouting: To make your bathtub or shower look fresher and cleaner, regrout the tile. Scrub with a brush and a bleach solution. If you can't get the debris off, think about removing the grout and reapplying a new layer. The cost of grout is about $20.
New exhaust fan: The exhaust fan in your bathroom helps prevent mildew and mold growth. If the exhaust fan is worn down and not running properly anymore, it's time to replace it. The cost of a new bath fan averages at about $100, but it's a worthwhile investment to avoid mildew growth.
Green showerhead: How much money are you paying for water right now? Do you like long, luxurious showers? To avoid cutting down your time in the hot water, think about replacing your showerhead with its green alternative. Low-flow showerheads can cost as little as $50 and are easy to install. Plus, you can still get high water pressure.
New faucet: Another investment you can make in your bathroom is to replace your faucet. A new faucet can really change the look of your sink and cut down costs on your water bill as well, depending on which one you choose. Most faucets cost about $50 to start, though the best types will cost upwards of $100. If you want an efficient faucet, keep an eye out for the Watersense logo.
$10,000:
When you have a more sizeable budget, you don't have to rely so much on your two hands to do the work. You can hire local contractors for some of the projects in the bathroom, which saves you a lot of time and hassle. That doesn't mean you can have the bathroom gutted and completely remodeled, though. A project like that will cost upwards of $22,000. But at least you can make some more major changes to the room including:
Granite countertops: Granite countertops have always been a popular investment for kitchens and bathrooms. However, they can cost a lot of money– about $3,100. So to save a few dollars, choose granite that has imperfections or countertops in neutral colors.
New accessories: Little accessories can make a big impact. Maybe it's the overhead lighting, towel racks or drawer handles in the vanity. While these seem insignificant, together they can drastically increase the appeal and atmosphere of the bathroom. Do not replace your lighting fixtures on your own, but changing out bulbs with their LED or CFL alternatives is okay — and it cuts down on your electricity costs.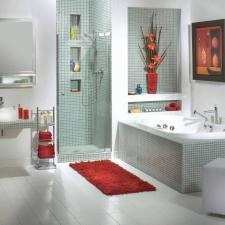 Refinishing fixtures
: While you might think about replacing one or two of your bathroom fixtures, you shouldn't try to replace all of them. Instead, think about refinishing some of your fixtures like the sink, shower and bathtub. If they're made of cast iron, porcelain or fiberglass, this is a cheap investment with great results. Your fixtures will look almost brand new for a fraction of the cost to replace them. For example, the cost to refinish a bathtub is about $300 on the low end and $1,000 on the high end, as compared to replacing it for $2,200 on average.
More green updates
: There are a lot of green updates you can make around the bathroom to save money on your utility bill. As reiterated before, CFL and LED lighting helps, as do low-flow showerheads and Watersense faucets. In addition, you can invest in dual-flush or no-flush waterless toilets, also under the Watersense label.
Conclusion
Bathroom remodeling doesn't have to be an expensive investment. Despite your budget, there are always ways to save and still end up with a new, revitalized space. If you don't have the budget to do what you want in the bathroom, you can at least make a few adjustments until you're ready to gut the space for more major changes.
As always, thanks for listening to my Radio Show "Tough Market-Real Estate Radio Hour-LIVE!" Sunday's at 4 PM EDT only on 55KRC, THE Talk Station!
Until next time.
-Adrienne
Contributor Andrea Davis